A Hallmark is an official mark that has been stamped or lasered into items that have been made out of precious metals. These metals include: Gold, Silver, Platinum and Palladium. In the UK it is illegal to see or describe any item as Gold, Silver, Platinum or Palladium unless it is Hallmarked. The Hallmark guarantees the precious metal content of the item that you are buying, giving you complete reassurance.
THE SPONSOR'S MARK
This is the unique mark of the company or person who is responsible for sending the piece of metal for Hallmarking. The sponsor may be the: manufacturer, retailer or an individual. When you order from Broadway Silversmiths, you will find 'B & Co' stamped into the silver.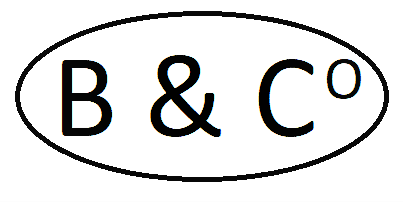 THE STANDARD MARK
This particular series of markings shows the purity of the metal. In parts per 1000 in relation to the standard recognised in the UK. For example, 750 parts per 1000 by weight is equivalent to the old 18 carat gold standard. The alloy must be at least 750 parts per 1000 to be marked as such. There is no negative tolerance. See the chart below that informs you on all the marks to look out for ( Image provided by The Birmingham Assay ).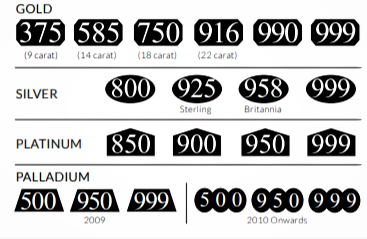 AT BROADWAY SILVERSMITHS
We can guarantee that our products are manufactured and Hallmarked in Birmingham. You can find all of our products on our homepage.